Reading Camp
There are children everywhere who are in danger of becoming "at-risk" children with "at-risk futures" because they are unable to read at a proficient level. The educational resources of Lutheran Outdoor Ministries Indiana-Kentucky are poised to make a difference in the lives of these children. We have begun to identify educators, reading specialists and curriculum consultants from synod congregations to help plan and implement READING CAMP, which will create an innovative and fun atmosphere, use only materials that are new and fresh to the campers, and provide an exceptional teacher for every three campers.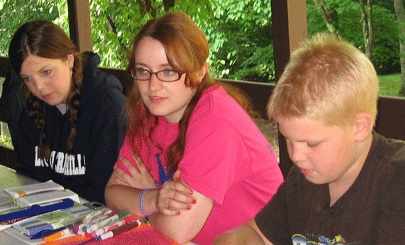 THE PROGRAM. For three hours each morning (Monday-Friday), campers will rotate through six Reading Centers where one particular reading skill is practiced. Each lesson is tailored to particular camper based on test scores provided by the public school. As the week progresses, teachers will retool the lesson plans to better match the need of each camper. Over the course of the week, campers will have 15 contact hours with teachers in concentrated caring through literacy tutoring.
READING CAMP is not an educational "Boot Camp" but a true Christian camp experience with swimming, boating, arts and crafts, Bible study, hiking, games, campfire programs and a chance to make new friends. Also woven into the week are special events, including a visit from a local children's author.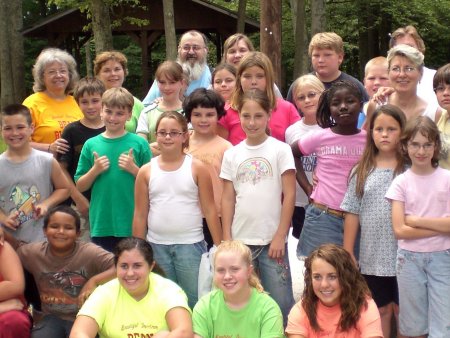 ELIGIBILITY. Campers are "learning-abled" children, having completed 2nd grade, entering 3-4-5-6 grade in the fall, and lag behind their peers in basic reading skills. They need to be recommended by a teacher who believe such extra attention would be beneficial. Campers attend at no cost.
RECOMMEND A CHILD. If you know of a child who would benefit from a week of READING CAMP, contact Cleo Swager, Reading Camp Director (260) 456-3168.
VOLUNTEERS NEEDED! We need teachers to help at both Lutherwald and Lutheran Hills. Also, we are looking for high school and college-aged "Cadets" from synod congregations with an interested in elementary or secondary education. "Cadets" work with the teacher they are partnered with for 3 hours each morning and interact with students throughout the day on general camp activities, including leading "Read Aloud" story sessions each evening. Contact Cleo Swager at (260) 456-3168 for a special application.

Lake Luther
5215 N 450 W
Angola, IN 46703
(260) 667-7750

Lutheran Hills
6371 Bear Creek Rd.
Morgantown IN 46160
(812) 988-2519

Lutherwald
2065 W. State Road 120
Howe, IN 46746
(260) 562-2102
LOMIK on Facebook
2020 Summer Brochure
2020 Newsletter